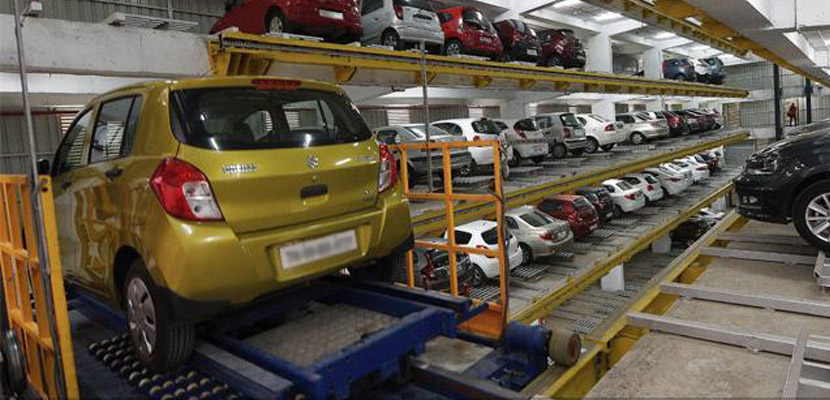 Parking Made Easy
04 May 2012 Business World
Andrew McNeal, an expat working in Bangalore, travels 20 km every day to his office in Electronic City from his residence on M.G. Road. Often, to avoid evening rush hour traffic, he parks his car on Level 4 of the Forum Mall and visits a coffee shop. "I get to catch up on my reading, but more importantly, my car gets washed at the parking lot," says McNeal who pays Rs 500 per wash. With malls trying hard to woo customers, parking services such as these are becoming an important element in retail operations as better parking facilities translate into higher footfalls.

The size of the parking market in India is estimated to be around $300 million and growing at 30 per cent each year. Of this 90 per cent is unorganised and in the hands of local contractors, leaving the organised parking market at only around Rs 150 crore. However, this presents a significant opportunity for a player with the right systems and technology in place.

Consider this: India has over 100 million registered vehicles. Last year alone, 2.4 million cars were added to Indian roads and auto companies estimate sales to increase to 6 million units a year by 2018. "There exists a significant need for parking management in India given the explosive growth in car ownership, resulting in traffic congestion, limited availability of urban land and consequently scarcity of parking

And it is this potential that drew Australian firm Secure Parking into setting up shop in India in 2008. "With more cars and two-wheelers, the need for organised parking will only be much greater," says Arvind Mayar, CEO of Secure Parking India. "Parking is not a commodity and the service element is what we want to bring to India." The company handles over 10,000 bays spread across 105 car parks in Delhi, Bangalore and Mumbai.

The Business Of Parking
Setting up a parking lot for around a 1,000 cars costs nearly Rs 1 crore, of which Rs 70 lakh goes towards the technology (sensors, cameras and security systems, parking software, etc.) while the rest is used to put up signage, speed breakers and ground-level offices, etc. Besides the fixed costs, the major operating expenses for these companies include staff salaries, training and maintenance.

On an average, 45 people are employed in the parking space of a 1.2 million sq. ft mall. But some malls rely more on technology and less on people. For instance, the Number One MG Road mall in Bangalore has completely auto-pay stations, and employs fewer than 20 people in the parking lot.

On the revenue side, on average, a mall charges Rs 20 per hour, which goes up to Rs 50 on weekends. So if a mall has 1,000 bays and 800 of them are occupied for eight hours every day, the parking company will earn a revenue of Rs 128,000 daily. On an average a parking company nets 9-10 per cent profit after tax. "If the mall or airport is successful, we make our money," says Mayar of Secure Parking.

While malls may be more prevalent, airports is where the big business is since the value of the collection there is much higher. The average parking cost at most metro airports is in the range of Rs 60-100 per hour, while it is Rs 30-75 at high-end malls (full-day parking charges are in the Rs 300-1,000 range at airports). So, it is not surprising that at least 50 per cent of the business for the parking firms comes from airports, about 45 per cent from malls and shopping centres, and the rest from institutions.

India's booming economy has over the years greatly increased the need for parking with the number of retail malls, airports, hospitals and density in large apartment buildings increasing vastly. While there is still a lot to achieve in this business, making it more organised is a step in the right direction.